Story
Returning Migrants: new hope, new opportunity while claiming back the time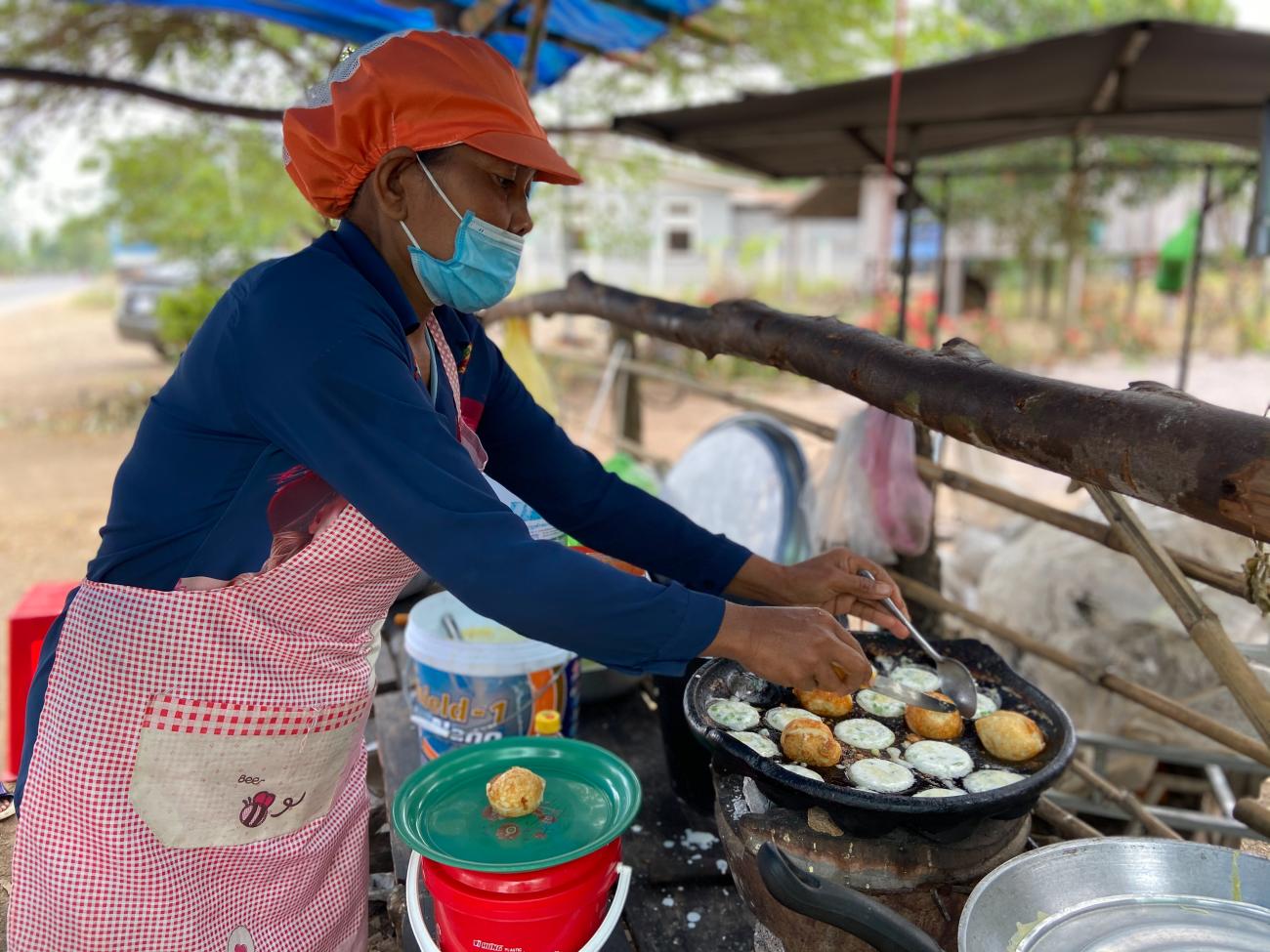 Celebrating Cambodian Women's Resilience and Entrepreneurship in the Face of COVID-19
NEW HOPE
Pisey Soeun's house is in a quiet village of Dombok Bon village in Along Vil commune, Sangke district, located approximately 20 kilometers from Battambang, in northwestern Cambodia. Most of the villagers have migrated to Thailand to work as construction workers, day labourers, vegetable vendors, and factory workers. As other villagers were suspicious Pisy's family might bring COVID-19 to their community,  the family moved to her parents' house several kilometres away to look after her chickens.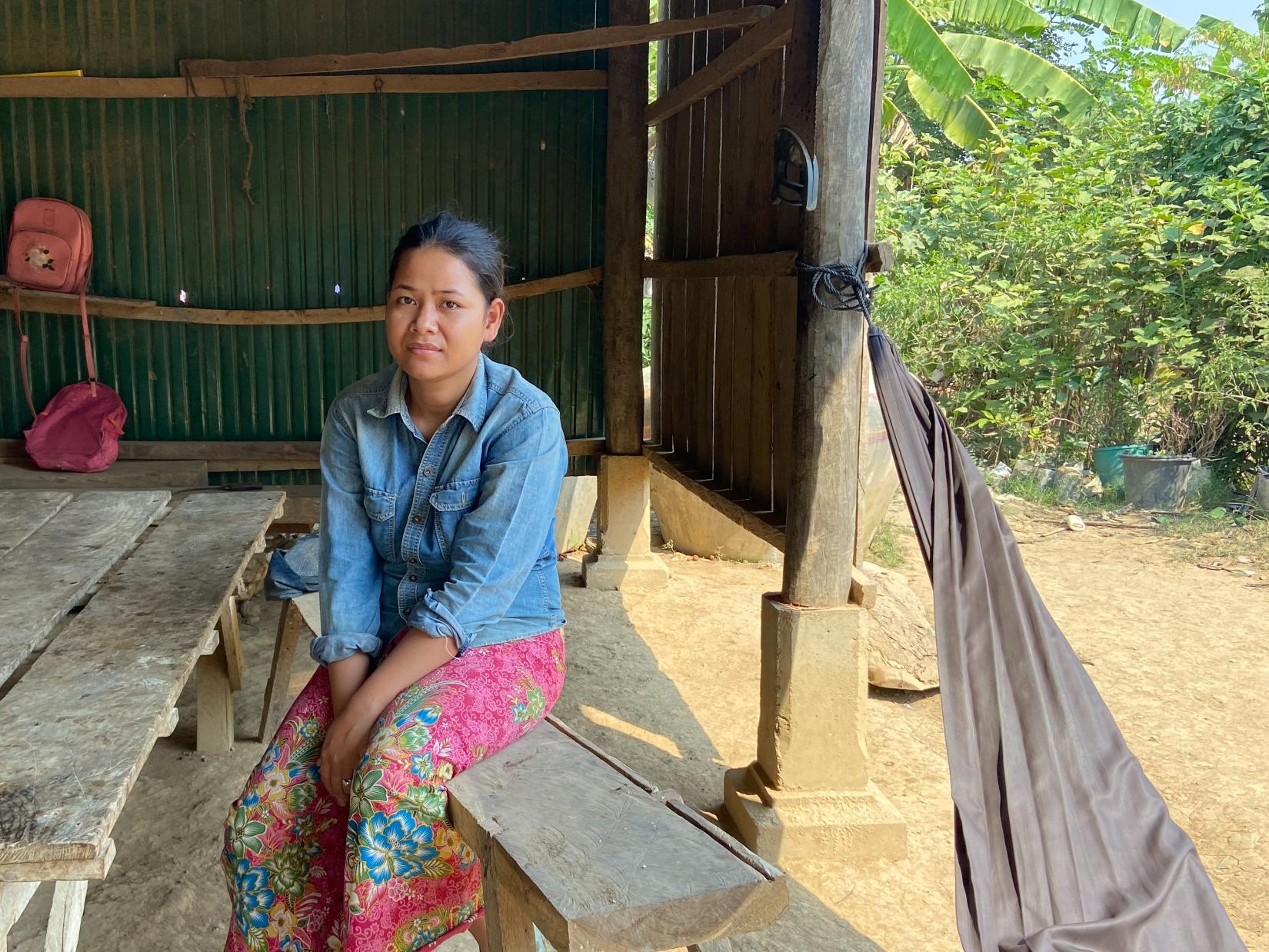 Pisey and her husband Bora returned from Thailand in May 2020 to be reunited with their two small children they had left behind with her sister. Pisey's husband managed to find a job as a day labourer in Battambang, providing a small income for his family, but not sufficient to pay their bills on time and buy enough food.
With no employment prospects, Pisy was excited to be accepted on the socio-economic reintegration program to start raising chickens to generate income for her family.
However, to her surprise, she learnt that not everyone in her village was comfortable with her return. The villagers openly accused the family of bringing COVID-19 into their community. One of her relatives, posted information on Facebook unfairly accusing Pisy of escaping from a quarantine centre after arriving in Cambodia. After this, the health care centre staff and police repeatedly visited Pisey's house to check on her health. Even after the local authorities intervened, the community remained suspicious.
"People in my village chased me out whenever I went to buy food in a local store, including even the owner, while others didn't dare to walk in front of my house," said Pisey. "That's why we decided to move out temporarily from my village to live with my parents where people didn't know us," she continued.
Before returning to Cambodia, Pisy spent two years in Thailand with her husband working at construction sites. She missed her two small children. The family never registered with the IDPoor program, as they were absent when the local authority conducted an assessment of poor families in her village. Not having the IDPoor card meant that the family couldn't access the COVID-19 cash transfer system upon their return.
"I was so glad when I got selected to participate in the reintegration program, as I wanted to use the grant to start my small business directly in my house and be able to support my family with an extra income. My plan is to stay in Cambodia and focus on my children and their education.''
After attending a three-day chicken raising training, Pisey received 25 chickens to get her business started. In January 2021, she sold around 12 kilograms of chicken (13,000 Riel per kilogram) and invested her money in buying five more hens.  
Pisey now looks into the future with optimism: "I plan to sell more chickens before the Khmer New Year and expand my business. The support I received from this program has not only provided me with extra income but also gave me the hope I needed after losing my job in Thailand and returning back home.''
PURSUING OPPORTUNITY
February 2021 was a tough month for Mrs. Sim – she hardly earned any income from her cake selling business and lost some of her savings too. Soy is a traditional Khmer cake seller and has been running her business in the Kamrieng district, on the border with Thailand, where her customers were daily workers who crossed the border to work in Thailand. When strict border management measures to prevent the spread of COVID-19 were implemented in February 2021, following an outbreak in Thailand, many of daily workers moved to towns and other areas away from the border, and Soy's source of income dried up. It was time to move again.
"After the border between Cambodia and Thailand was closed completely in early February, my income decreased from one day to another," said Soy.
Before selling cakes, Soy and her family used to migrate to Thailand to work, pushed by their increasing debt and struggling to make a living from their land in Cambodia. When Soy's health deteriorated, having spent her savings on paying off the brokers and her debt, she decided to return to Cambodia and start her own business. Her eldest son returned from Thailand in 2020 due to the COVID-19 crisis, and this prompted her to participate in the socio-economic reintegration program (see below).
The grant from the program allowed her to buy a hand cart and materials to build a cake selling store. The training she received under the program, helped her manage the financial side of her business. At first, she could earn between 40,000 Riel and 50,000 Riel (USD 10-12) per day by selling cakes in front of the Tran Health Centre and by pulling the hand cart around the village to sell in the afternoon. She was also able to save 5,000 to 10,000 Riel (USD 1.20 -2.45) per day for emergency expenses, after covering the family's basic needs.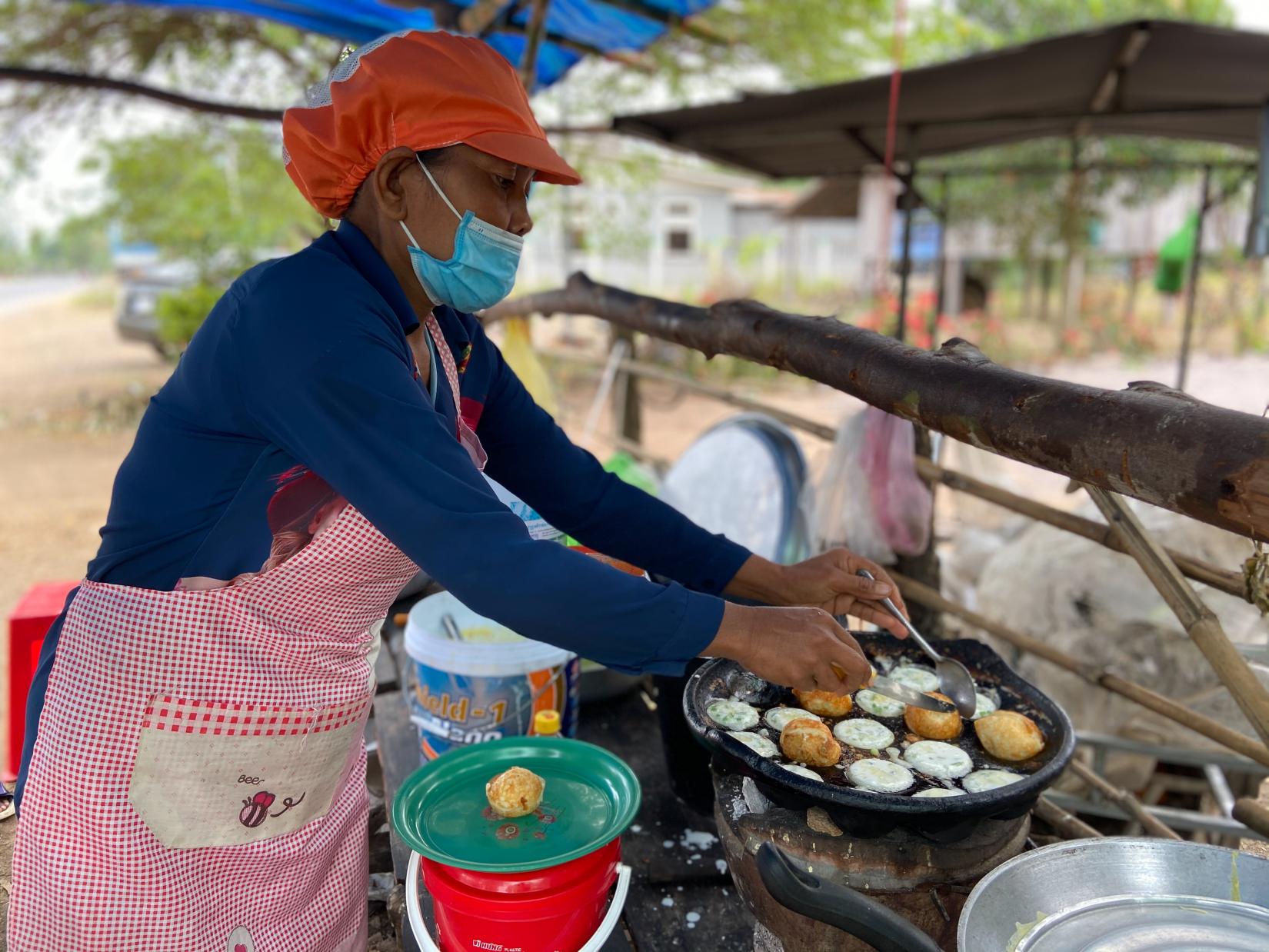 Eventually, Soy's mother, who lives in Phnom Penh encouraged to move to the capital to sell cakes outside a garment factory. Soy now  rents a small room in Phnom Pehn with her 14-year-old daughter, who dropped out of school last year.
"Two days after arriving in Phnom Penh, I can earn around 20,000 to 30,000 Riel (USD 5-7) per day after my expenses," she said. "I will go back to my hometown when local authorities re-open the border because I want to live with my family and life is cheaper there than in the capital."       
CLAIMING BACK THE TIME
When Mrs Sam returned to Cambodia last year, she was mostly happy to be able to see her children again. She has four children with the eldest only 12 years old. Chanleng and her husband worked in Thailand for five years and returned due to the COVID-19 outbreak.
As a labourer, she could earn 20,000-30,000 Riel (USD 5-7) per day cutting grass or collecting corn in Thailand, while her husband traded goods at the Doung border checkpoint. In the past, they even migrated to Thailand's northern Chiang Mai province in search of better earnings, which never materialized forcing the couple to return to work in the border areas.
Whilst working in Thailand, the couple's young children stayed with their grandmother, who covered their expenses which Chanleng had to settle upon her return. Struggling with a debt of over USD 600, Chanleng saw her chance of generating income for her family by participating in the socio-economic reintegration program (see below).
Thanks to the program, Chanleng took part in a three-day training on how to raise chickens. Provided with 10 hens, cage materials and feed, Chanleng started her business on her parents' farmland.
Between October 2020 and January 2021, she sold 40 kilograms of chicken at 15,000 Riel (USD 3.5) per kilogram. With the earnings, she invested back in her business to buy another 20 chickens, bought clothes and study materials for her children, and also kept some money aside for emergency expenses.
"I plan to keep expanding my chicken raising business. As the border between Cambodia and Thailand was closed off completely after the COVID-19 outbreak at Thailand and my husband lost his job, my family therefore depends on my success."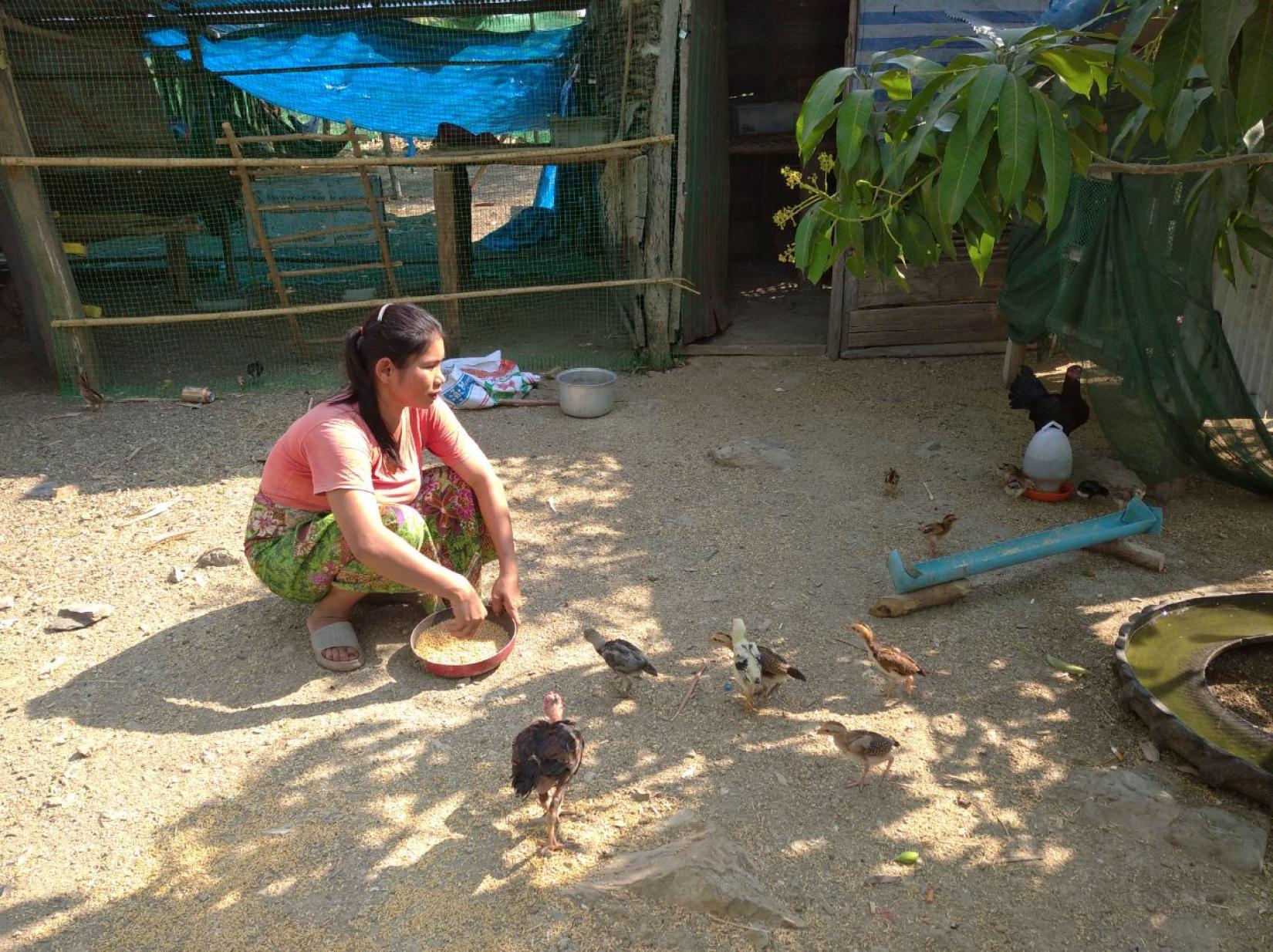 Chanleng also sees this as an opportunity to claim back the time she lost by being away from her children.
"I never had time to live with and take care of all my four children because I always worked in Thailand and left my children to live with my parents." She enjoys looking after them now, helping them with homework and growing some vegetables around the house for them.
"The support from the program not only provided me with hope to look into the future but also a means to generate income for my family. For me, what's most important is that it has given me the time to be with my children."
About the project
The socio-economic reintegration program is one of the interventions under the UN Joint Programme to Support Returning Migrants in response to the COVID-19 crisis and its impacts. The programme was funded by UN Multi-Partner Trust Fund (MPTF) which run in three provinces between June and December 2020. The participating agencies are WHO, UNFPA, UNICEF and IOM.
Written by
UN entities involved in this initiative
IOM
International Organization for Migration