Press Release
Information Note #4: UN Support to Cambodia Prisons in the Current COVID-19 Context
28 May 2021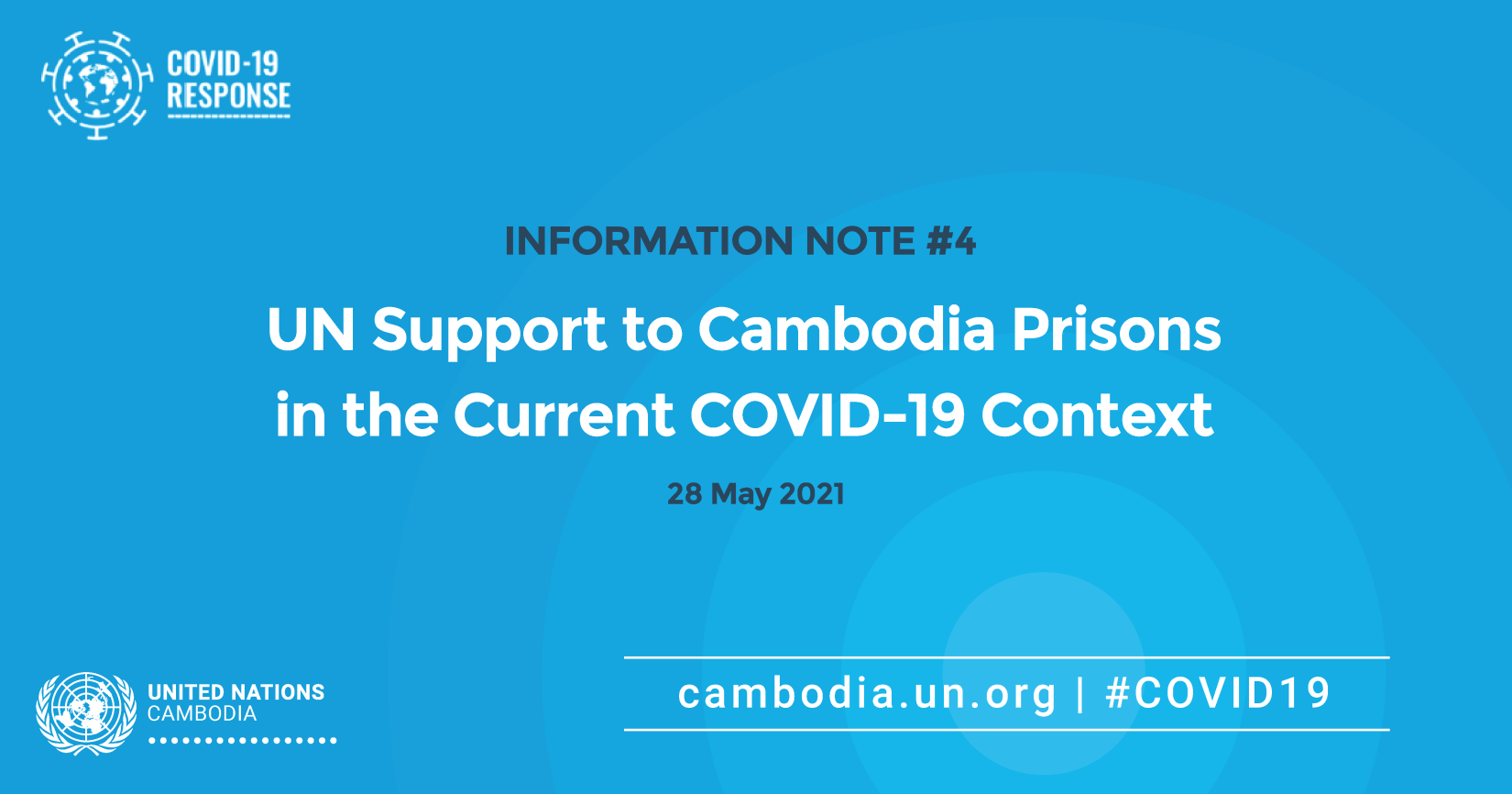 The United Nations system in Cambodia works on prisons and with prison authorities based on the respective agencies' mandates with a view to ensuring that the rights of persons in detention and those working with them are protected and promoted in line with Cambodia's international human rights obligations. As such, the UN's role is limited to technical assistance, whereas the Government retains obligations to uphold its commitments to protect and promote human rights of Cambodian prison population. When an urgent need arises, the UN provides humanitarian assistance to the extent possible in line with the request of the government and international humanitarian principles.
In the context of technical assistance, the United Nations system in Cambodia has continuously called and offered support, and continues to call on the authorities to cooperate in protecting people who are behind bars, ensuring rational testing following guidelines, and ensuring that the COVID-19 outbreak is managed appropriately with a view to protecting the rights of prisoners and prison staff. 
Specific United Nations entities have also been entrusted with promoting international norms and standards pertaining to prison settings, such as the UN Standard Minimum Rules for the Treatment of Prisoners Nelson Mandela Rules (Nelson Mandela Rules), the UN Standard Minimum Rules for Non-Custodial Measures (Tokyo Rules) and the UN Rules for the Treatment of Women Prisoners and Non-Custodial Measures for Women Offenders (Bangkok Rules). The UN system continues to advocate for the implementation of these norms and standards.
On the health response, since the start of the COVID-19 pandemic in 2020, the United Nations has provided technical advice and operational support to Ministry of Health to prepare for and respond to COVID-19 in Cambodia. In Cambodian prison settings, together with partners, the UN advice and support includes: (1)establishing Influenza-like-illness (ILI) sentinel surveillance sites in four prisons located in Phnom Penh, Siem Reap and Kampong Cham, where at these sites, detainees presenting with ILI symptoms are tested for COVID-19; and (2) working with the Ministry of Health and advising the General Directorate of Prisons on risk mitigation measures and response planning in prison facilities. In response to the current COVID-19 outbreak, UN has provided technical advice on the use of rapid tests including implication of negative test results and guidance on contact tracing and quarantine; and promoting cross-sectoral collaborative and coordinated preparedness and response.
On 13 May 2021, the General Directorate of Prisons requested the United Nations to provide humanitarian support to the Cambodian prisons, which is summarized below:
For Prison Operation Officials (Security and Health)
| | | | |
| --- | --- | --- | --- |
| No. | Materials | Quantity | Unit |
| 1 | Quasi-PPE clothing (direct services to Covid-19 infected individuals)           | 2,500 | Set |
| 2 | Face shields | 2,500 | Piece |
| 3 | Latex gloves | 5,000 | Pair |
| 4 | Rubber gloves | 250 | Pair |
| 5 | Rubber boots | 250 | Pair |
| 6 | Waterproof plastic aprons        | 250 | Piece |
| 7 | N-95 masks | 15,000 | Piece |
For Inmates (10,000 Individuals)
| | | | |
| --- | --- | --- | --- |
| 1     | Rapid antigen test kits for detecting Covid-19            | 10,000 | Set |
| 2 | Chinese traditional anti-flu medicine (Lianhua Qingwen Jiaonang)              | 35,000 | Box |
| 3 | Multi-vitamin supplements | 140,000 | Tablet |
| 4 | Vitamin C 500 mg | 420,000 | Tablet |
On 27 May 2021, the United Nations handed over 5,000 pairs of latex gloves, 250 pairs of rubber gloves, and 250 pairs of rubber boots to the General Department of Prisons at the Correction Center II. These supplies are funded by the grant of the Government of Japan. They will be distributed by the General Department of Prisons to provincial prisons where there is high risk of COVID-19 outbreak, in particular where there are juvenile detainees.
Concurrently, the United Nations is procuring most of the remaining items on the GDP list: 500 sets of quasi-PPE clothing, 500 face shields, 200 pieces waterproof plastic aprons, 4,500 N-95 masks, 3,000 rapid antigen test kits, 140,000 tablets of multi-vitamin supplements and 420,000 tablets of Vitamin C 500 mg. and vitamin). Delivery time will take into account availability of stocks in the domestic and international markets.
In addition, the United Nations will be contributing 200 boxes (10,000 pcs) of masks and 1,080 bar soaps to the Sihanoukville prison by 1 June 2021. The United Nations will also be supplying an additional 3,000 rapid antigen test kits and other PPE supplies.
The United Nations system in Cambodia continues to advocate and offers technical assistance on implementing alternatives to detention, particularly in the context of COVID-19 pandemic.  In this regard, the United Nations system has urged the Royal Government that detention should be used as a last resort and alternative measures to imprisonment should be considered as a matter of priority. The United Nations system notes that Cambodian Criminal Procedure Code provides that liberty, not detention, should be the norm for those awaiting trial. The challenges posed to the penal system by COVID-19 are exceptional and commensurate exceptional measures are needed to ensure that the health and rights of all of those held in Cambodia's dangerously overcrowded prisons are protected. In the context of the current COVID-19 outbreak, the authorities need to take urgent steps to minimize the threat posed by the virus to those in detention including by releasing to alternate facilities, a wide range of categories of prisoners, namely pre-trial detainees, women with accompanying children, those with pre-existing medical conditions and non-violent offenders.
At the same time, the United Nations system has been advocating for alternatives to detention for children in conflict with the law and supported the Ministry of Justice to develop the Diversion and Child-friendly procedures guidelines. Capacity building for police, prosecutors, judges and social workers has been provided and will continue to be provided to ensure the effective application of the Law on Juvenile Justice and relevant procedures and to implement alternative measures to detention.
The United Nations system in Cambodia does not have specific information on the number of positive cases in prisons in Cambodia and calls on greater transparency to ensure that information concerning the outbreak in prisons is made available similar to other COVID-19 positive cases.
###
UN Cambodia's Response to COVID-19 Information Notes are official documents from the United Nations in Cambodia intended for the media and other partners. They are prepared by the Office of the UN Resident Coordinator. 
UN entities involved in this initiative
IOM
International Organization for Migration
OHCHR
Office of the United Nations High Commissioner for Human Rights
UNDP
United Nations Development Programme
UNICEF
United Nations Children's Fund
UNODC
United Nations Office on Drugs and Crime
UNOPS
United Nations Office for Project Services
WHO
World Health Organization