Press Release
Information Note #12: Mental Health and COVID-19
23 August 2021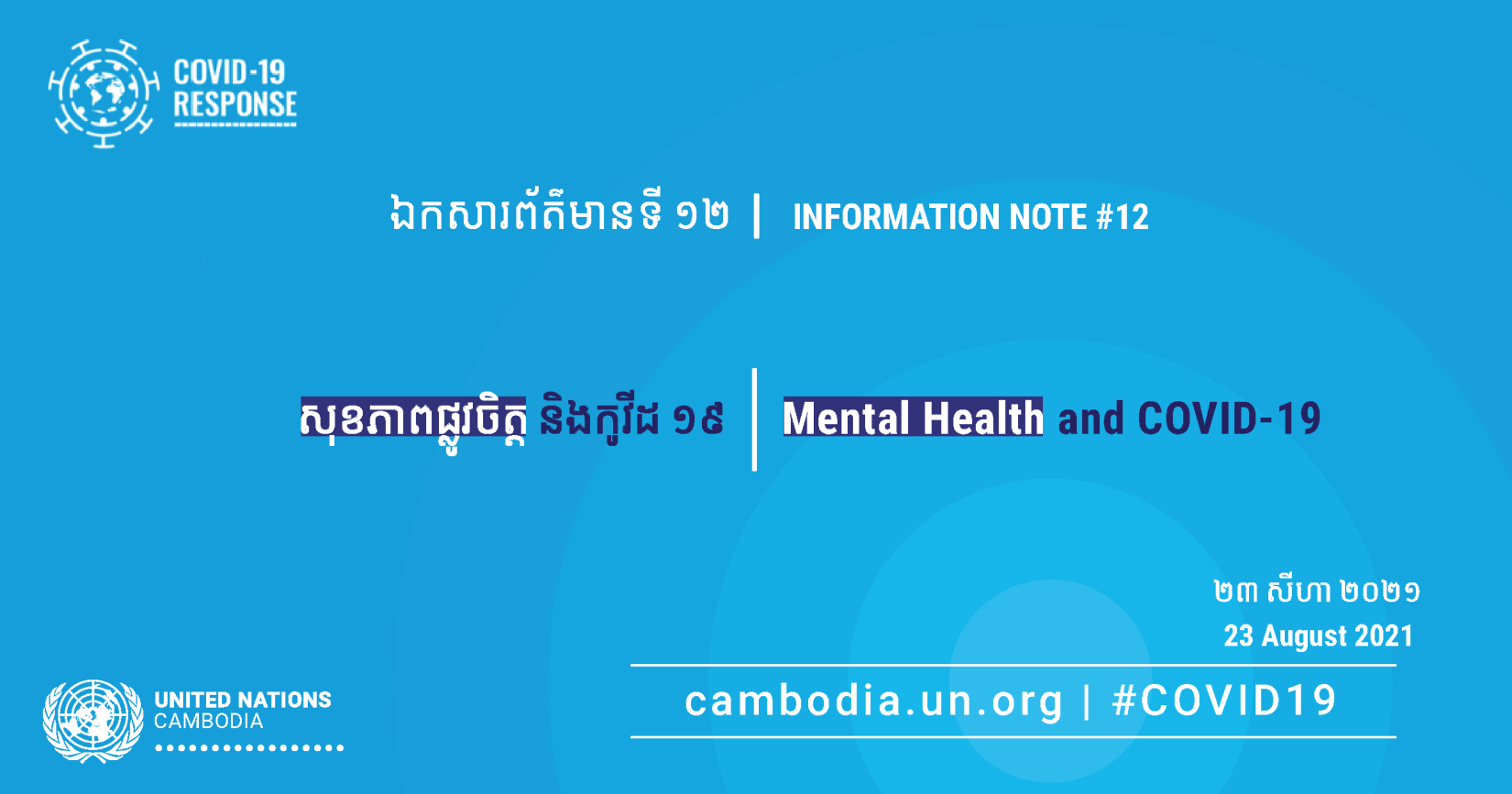 "There is no health without mental health. COVID-19 has threatened mental health in Cambodia, particularly for vulnerable Cambodians, such as migrant workers. WHO and the UN are working to ensure that these vulnerable groups have access to mental health and psychosocial support."[1]
Dr Li Ailan, WHO Representative to Cambodia.
As COVID-19 threatened people's physical health, it also had a huge impact on their mental health. In May, the World Bank estimated that the pandemic had endangered at least 1.7 million jobs in Cambodia[2], putting immense socioeconomic—and emotional—stress on Cambodians. Workers in many industries had their salaries cut or their livelihoods threatened; students and families had to adapt to schools being physically closed; and everyone coped with greater social isolation and uncertainty. These challenges made many people feel anxious and distressed. Migrant workers were particularly affected, struggling to find a source of income upon their return[3], which caused considerable stress, depression and other mental health challenges. To date, over 225,000 (46% women) Cambodian migrant workers have returned to Cambodia from neighboring countries since the beginning of the COVID-19 pandemic. As a result, demand for mental health services increased.
Mental Health and Psychosocial Support (MHPSS) is a core component of any public health response. Addressing the mental health effects of COVID-19 is essential to prevent long-term impacts on Cambodians' wellbeing.
The United Nations prioritizes mental health as a human rights issue. In May 2020, the Secretary General issued a policy brief calling for concrete actions on mental health. The note provides substantive and policy guidance for the United Nations, Governments, civil society and other stakeholders to minimize the mental health consequences caused by the pandemic. The Secretary General notes that human rights violations against people with severe mental health conditions are widespread in all countries of the world.
The United Nations system in Cambodia has worked closely with the Royal Government to strengthen the mental health services offered at health facilities and in communities. Technical and financial support was provided to the Government[4] using a whole-of-system approach, reaching the most vulnerable population at community level through Village Health Support Groups (VHSGs), Health Centers and referral hospitals, rehabilitation centers and prison health staff to ensure everyone who is need have access to services without discrimination. It ensured essential mental health service delivery and psycho-social support in the context of COVID-19.  
In collaboration with the Department of Mental Health and Substance Abuse of the Ministry of Health, the United Nations trained health staff to provide appropriate mental health and psychosocial support (MHPSS) to vulnerable population, including returning migrants. As a result, 2,778 (969 females and 1,809 males) health staff from health centers and districts referral hospitals in 24 provinces and Phnom Penh gained knowledge and skills on MHPSS in the context of the COVID-19 pandemic.
In October 2020, flooding affected Cambodians in 19 provinces. This capacity building provided a foundation for health staff to provide mental health and psychosocial support in some flood-affected areas, showing how investment in essential health services as part of COVID-19 preparedness and response has much wider benefits.
At community level, the UN in Cambodia supported the Department of Psychology of the Royal University of Phnom Penh to conduct awareness raising sessions on mental health and psychosocial support for villages chiefs and village health support groups. 2,134 (836 females and 1,298 males) villages chiefs and village health support groups in 11 provinces gained knowledge and skills on preventive measures for anxiety, depression, and suicide prevention, along with basic counselling skills and how to mitigate the risks of gender-based violence. Moreover, 90,900 copies of awareness raising materials on COVID-19 related anxiety and depression management, suicide prevention, basic psychosocial support and relaxation were distributed among the population through the 2,134 village health support groups in 11 provinces.
Support was also provided to strengthen Mental Health and Psychosocial Support by specialized NGOs, such as The Transcultural Psychosocial Organization (TPO) and Child Helpline Cambodia (CHC), through hotlines, social media, face to face counselling and referrals to other services. Child Helpline Cambodia received 7,323 calls and all were provided with educational information mental health. In addition, 134 children and youth and 49 adults received individual counselling, 445 children and youth, 58 adults were provided with basic mental health care tips and self-protection, and 10 children and 7 adults were referred for specialized services. In 2020, a total of 195,364 children and 104,651 adults were reached with MHPSS messaging and COVID-19 prevention messages through social media, and 51 children and 630 adults received specialized mental health support from TPO's psychologists and psychiatrists.
MHPSS messages were also integrated in positive parenting programme and other Risk Communication and Community Engagement messaging implemented by ICS-SP. Since 2020, a total of 112,611 children and 76,816 parents/caregivers were reached with integrated MHPSS and COVID-19 prevention messaging and positive parenting tips. Additionally, 4,805 children and 5,392 parents/caregivers were reached through targeted community-based parenting sessions, peer-education and home-base visits, which included MHPSS information, conducted by trained community facilitators. All the above efforts contributed to addressing anxiety and stress in the context of COVID-19. 
Mental health and psychosocial support is an important part of COVID-19 response and further investment in this support will contribute to a safer and healthier future for all Cambodians. Now is the time to leverage the progress made through the COVID-19 response and build better mental health systems for the future. Key actions include addressing the chronic underfunding of mental health, taking a systems approach to deliver equitable, effective, and accessible services based on human rights principles and championing mental health beyond the health sector. Strengthening further the capacity of other sectors including local authorities, social workers, and education to address mental health is a step towards ensuring widespread availability of MHPSS to all populations, including the most vulnerable and hard to reach.
###
UN Cambodia's Response to COVID-19 Information Notes are official documents from the United Nations in Cambodia intended for the media and other partners. They are prepared by the Office of the UN Resident Coordinator.
1] https://www.who.int/cambodia/news/feature-stories/detail/who-rgc-and-partners-join-forces-to-offer-mental-health-support-to-migrant-workers-and-vulnerable-groups
[2] https://www.worldbank.org/en/news/press-release/2020/05/29/covid-19-coronavirus-epidemic-poses-greatest-threat-to-cambodias-development-in-30-years-world-bank
[3] Situation Report from IOM Cambodia for June & July 2021
[4] Department of Mental Health and Substance Abuse of the Ministry of Health and the Royal University of Phnom Penh of the Ministry of Education, Youth and Sport.
UN entities involved in this initiative
IOM
International Organization for Migration
UNICEF
United Nations Children's Fund
WHO
World Health Organization