Story
Cambodian Women Returnees Strive to Thrive Despite the Pandemic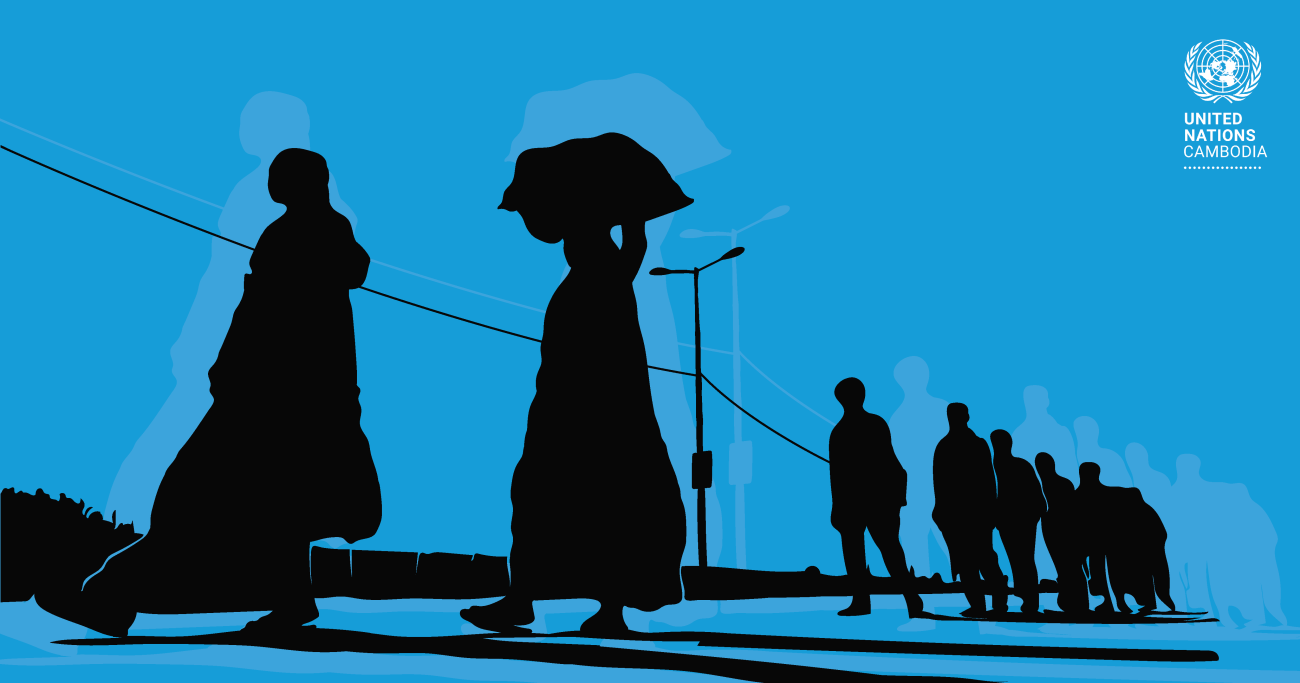 "It broke my heart to see them feel lonely when their parents left to work in Thailand, and they had to stay here in Cambodia with their grandparents''
Cambodia has seen an increasing trend in migration over the last two decades pushed by better job prospects abroad and closer bilateral cooperation with neighbouring countries. Migrants make immense contribution to the Cambodian economy through regular remittances sent home and by enriching the labour market with skills picked up from abroad.
Women are almost equal contributors to these benefits. Yet, they face disproportionate challenges in their migration journey and, when they return, faced with the family's indebtedness and loss of income to repay their debts. Women migrant workers who returned to Cambodia due to the COVID-19 pandemic are more likely than men to face financial difficulties and be in debt[1].
According to the World Bank, the percentage of firms with female ownership in Cambodia is estimated the highest in the region[2]. Women's ownership of businesses is highest in the micro- enterprise sector (62%), while only 26% of small and medium enterprises (SME) are owned by women[3]. In a post-COVID-19 environment, the micro, small and medium enterprise (MSME) sector is predicted to play an important role in socio-economic recovery, according to the Royal Government of Cambodia's priority sectors for recovery. However, only a very small proportion of women entrepreneurs are well served in terms of financing their business, with most relying on family and informal sources, clearly indicating a gap in the provision of banking and microfinance institutions' services.
To minimize the overall economic impact, the Royal Government of Cambodia (RGC) expedited rolling out a credit guarantee scheme to boost growth in the MSME sector. The sector is disproportionately made up of women entrepreneurs and is a major source of employment for women. A joint programme[4] implemented by the International Organization for Migration (IOM), UN Capital Development Fund (UNCDF) and UN Development Programme (UNDP) aimed to modify the design of the policy and operations of the credit guarantee scheme to maximize the benefits to women entrepreneurs and employees and create more jobs, particularly for low skilled workers such as migrant women.
A recent IOM report highlighted the urgent need to include reintegration pathways for returning migrant women to Cambodia, to enable them to contribute to the recovery in the MSME sector, considering the changes this sector is undergoing due to the impact of the pandemic. The economic empowerment effort should be set within an overall framework of an effective reintegration plan to ensure a smooth resettlement of the migrant women in the local economy and their social settings.
Some of the small businesses set up by migrants before the pandemic continue to thrive and provide a much-needed economic contribution in their local communities. Here are three women working against the odds to run their businesses.
Sakheam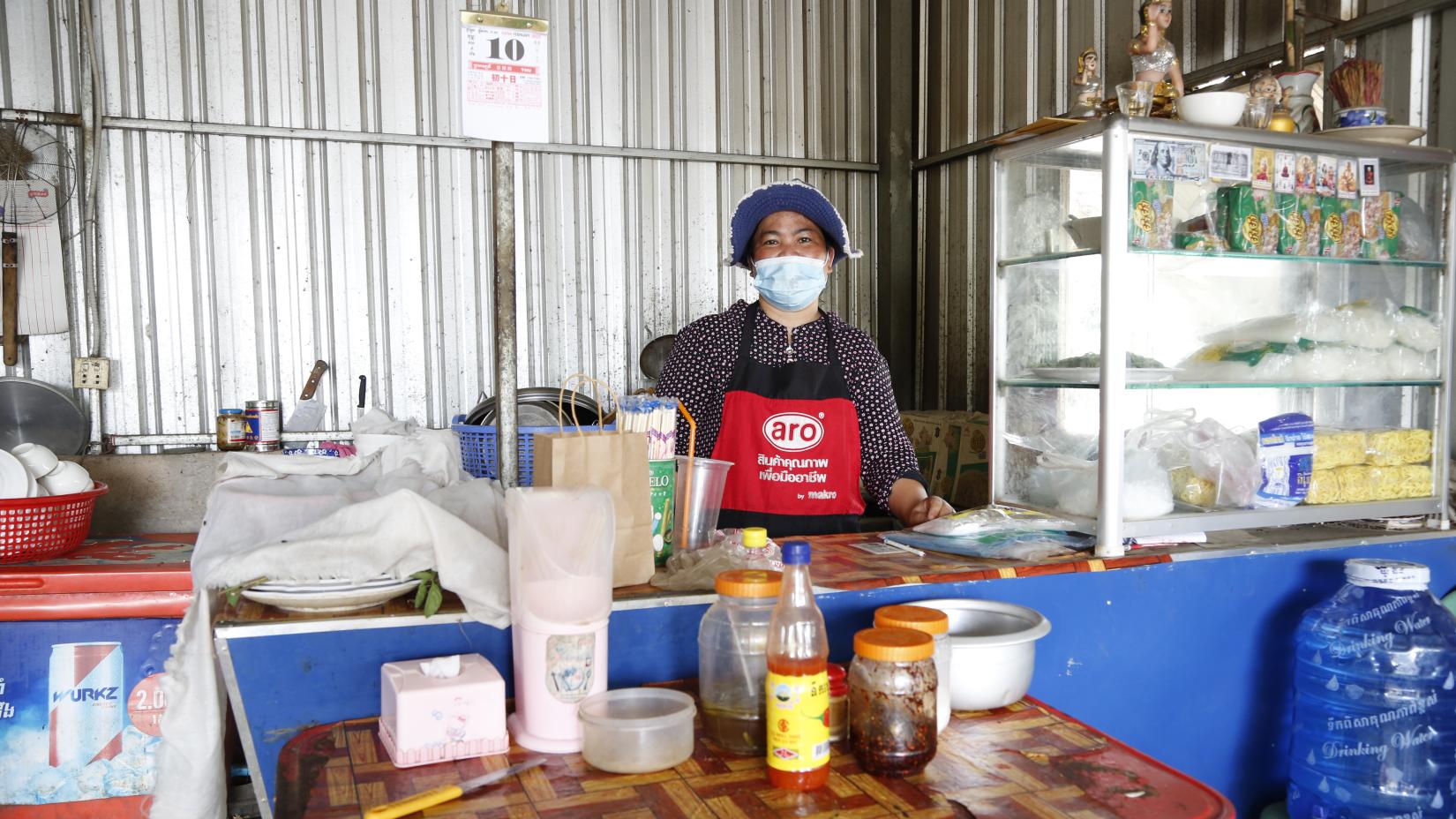 Sakheam (aged 42) returned to Cambodia in late September 2019, a few months before the COVID-19 pandemic started. She and her husband, Nge, migrated to Thailand in 2003 and worked in many sectors ranging from agriculture and construction to food businesses. When Nge suffered a knee injury, the couple spent their savings on his treatment. As an undocumented worker in Thailand, Nge could not access any state support.  
When it became clear that Nge would never fully recover from his injury which prevented him from returning to work, the couple decided to return to Cambodia and start their own business. "We agreed that we were too old to work for other people anymore," said Sakheam, now back in Banteay Meanchey province, bordering the Thai province of Sa Kaeo.
Having learned how to cook many traditional Thai dishes, Sakheam now runs her restaurant. Her cooking is recognized and admired by her neighbours and fellow villagers. She and her husband started their business by borrowing money from relatives and a bank. Despite the impact of the COVID-19, Sakheam's business has been able to retain its regular customers and almost paid back her bank loan. Her goal is to invest in her business and expand the restaurant's menu with time.
Sorida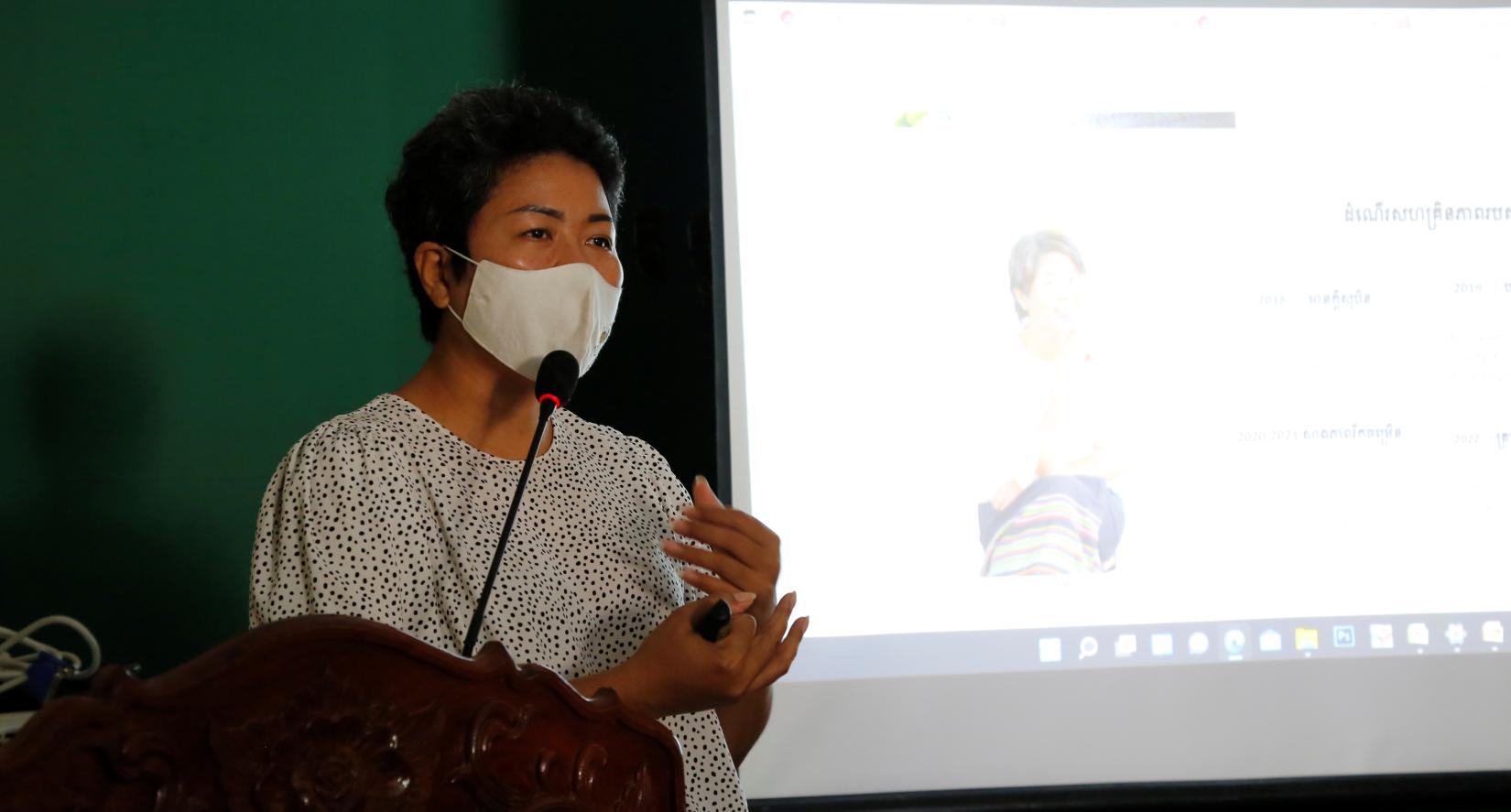 Sorida's business is another example of a successful social enterprise. She started a natural beauty product business in 2019. Her entrepreneurship is fueled by her concern for her nieces and nephews when their parents migrate due to work reasons. "It broke my heart to see them feel lonely when their parents left to work in Thailand, and they had to stay here in Cambodia with their grandparents''. She is keen to make a living here in Cambodia so that her nieces and nephews can stay with their parents and support their families in their home country.  
Sorida also migrated herself to Thailand and after coming back after several months, she started her business by producing handmade facial soap from locally sourced ingredients. At the moment, the family business is run by three women, but Sorida plans to provide job opportunities to women, particularly migrant workers, as her business grows. By investing in learning new skills, Sorida's business can now also supply a variety of products such as facial soap, facial oil, shampoo, conditioner, body lotion, mosquito spray, and shower gel.
Sorida recently participated in community outreach organized by IOM and the provincial employment agency aiming to improve migrants' access to information on local employment opportunities. "Having the right skills and knowing the market is necessary when starting a business," added Sorida. She also stressed the importance of following one's passion, with commitment and hard work. "We all can start our business from existing resources at our disposal. We should not wait until we have everything: start first and learn along the way," said Sorida. 
She has now opened a shop in Phnom Penh and her products are available in many outlets across Cambodia. She hopes to set up a factory in Banteay Meanchey province where she can employ migrant workers and support many more households.
Saroum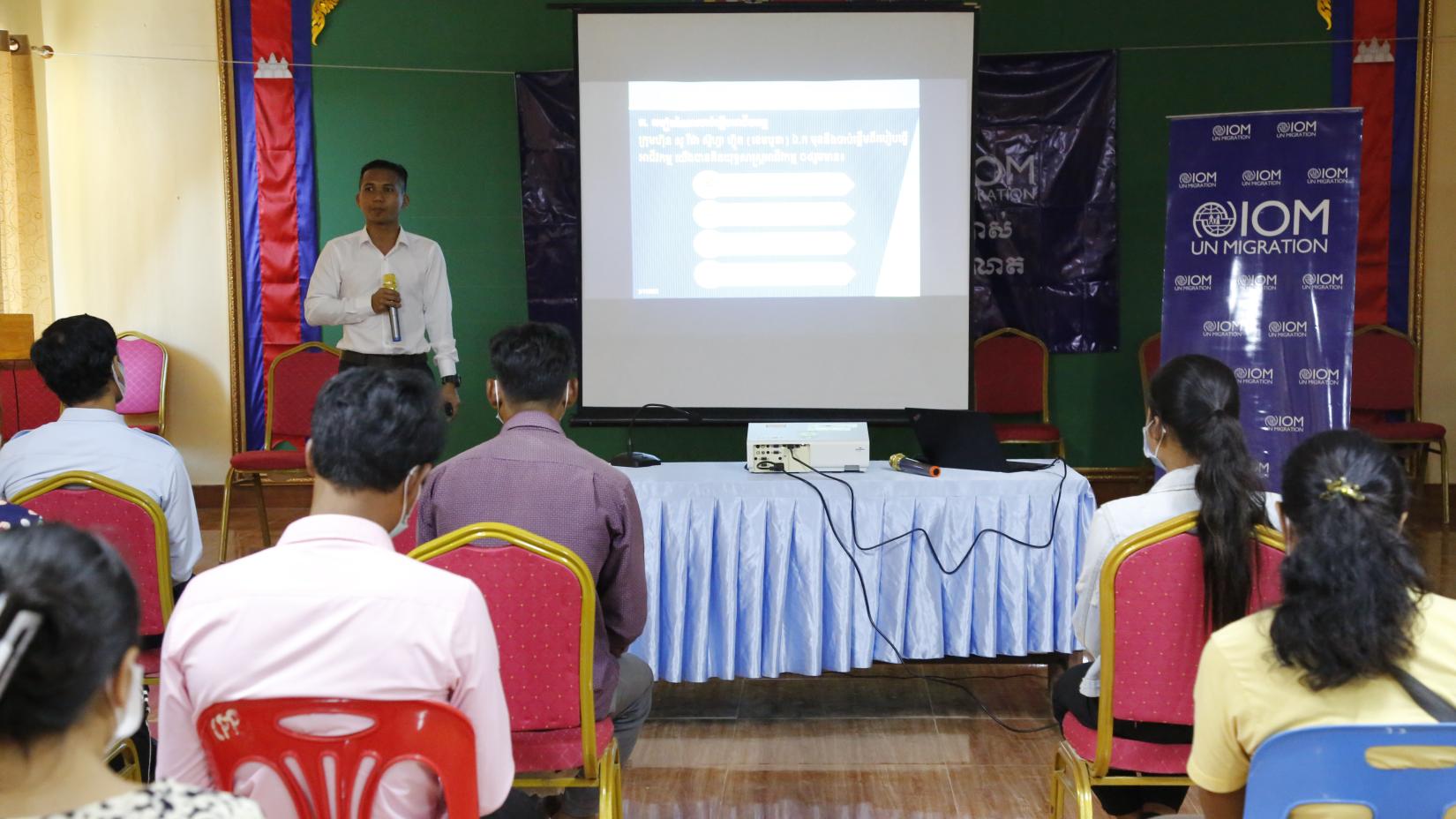 Saroum (aged 42) is a successful entrepreneur from Banteay Meanchey province. His business makes products made from coconut, including coconut juice, coconut jelly, and coconut coffee, with products now available in three big cities across Cambodia.
Saroum employs over 70 people in his company, most of whom are migrant workers who returned from abroad. He finds it easier to work with returned migrant workers from Thailand because he can relate to their experience.
Before starting his food business in 2019 in Banteay Meanchey, Saroum used to migrate to work in Thailand for more than 15 years, where he worked in the construction, gardening, and catering industry. The experience proved useful as he gained business management skills and became fluent in Thai.
One of Saroum's employees, Lisa (aged 27), has been working for his company for almost three years, currently as a finance officer.  In her view, the company always provided equal opportunities to both male and female workers and did not discriminate against illiterate staff.
But following one's entrepreneurship dream is not always a linear path to success. When Saroum, returned to Cambodia in 2017, he started a seafood business which soon failed, but 'failures are a good lesson learnt', he says. He was determined not to give up and then switched to selling coconut products.
Saoum, who, together with Sorida, participated in community outreach organized by IOM and the provincial employment agency, claimed that his flexibility, hard work and management skills have been crucial in growing his business.  "The most important part of doing a business is knowing how to create, manage, solve problems, and be responsible," he added.
The United Nations Joint Programme "Unlocking Cambodian Women's Potential through Fiscal Space Creation" was implemented in Cambodia between November 2020 and March 2022 by the International Organization for Migration (IOM), United Nations Capital Development Fund (UNCDF), and United Nations Development Programme (UNDP). The programme was funded by the United Nations Multi Partner COVID-19 Response & Recovery Fund.
[1] UNFPA, 2020: Rapid Assessment on Social and Health Impact of COVID-19 Among Returning Migrant Workers in Cambodia. Available at: https://cambodia.unfpa.org/sites/default/files/pub-pdf/final_survey_rep…
[2] International Finance Corporation (IFC), 2019: Exploring the Opportunities for Women-owned SMEs in Cambodia. Available at: https://www.ifc.org/wps/wcm/connect/9e469291-d3f5-43a5-bea2-2558313995a…
[3] Cambodia Inter-censal Economic Survey 2014
[4] funded by the UN COVID-19 Response and Recovery Multi-Partner Trust Fund
Written by
UN entities involved in this initiative
IOM
International Organization for Migration
UNCDF
United Nations Capital Development Fund
UNDP
United Nations Development Programme