Story
Stepping in: Women prepare for natural disasters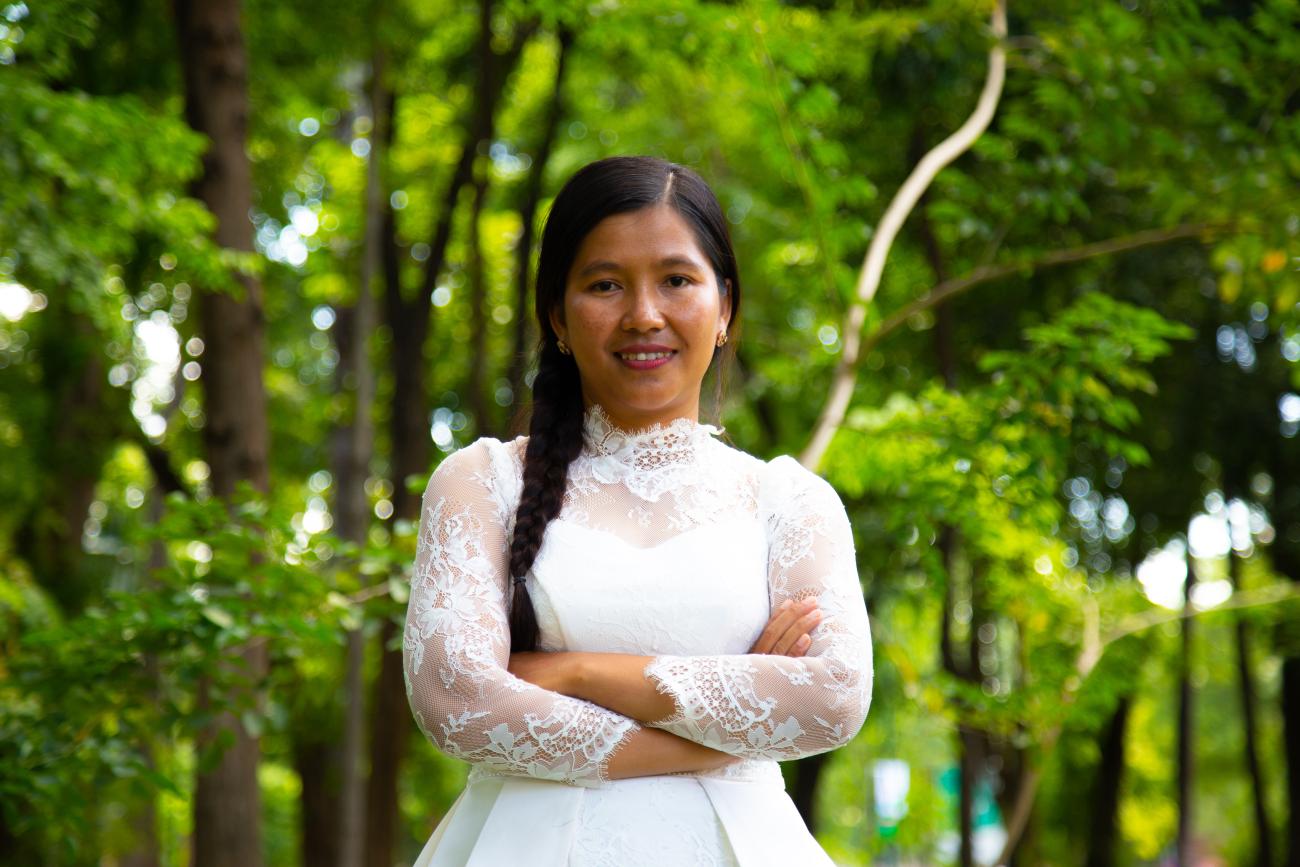 In Cambodia, women currently comprise 51% of the primary workforce in subsistence agriculture and 57% of the workforce in market-oriented agriculture.
Chan Kanha will never forget the rainy season of 2016.
"Livestock and rice fields of villagers were damaged," recalls Kanha, "but the drowning death of a 7 year-old girl was heartbreaking for me".
The death of the young girl left Kanha's community reeling.
When a disaster hits, both boys and girls, women and men have distinct vulnerabilities, and this shapes the way the experience and recover from a disaster. One such vulnerability is gender inequality.
Women make-up more than half of the population of Cambodia. But here at home and across the globe, when it comes to preparing and responding to disaster, women are disproportionately underrepresented. 
During a disaster, inequalities and power relations between men and women reveal themselves in the most frightening ways. In countries where gender inequality is pervasive, the percentage of women and girls who die is much higher, as are rates of but gender-based violence—including rape, human trafficking and domestic abuse. 
"Women are agents of change and their participation in disaster risk reduction (DRR) is a women's rights issue – a core principle of CEDAW," Khun Sophea, Programme Analyst, UN Women.
The Royal Government of Cambodia is a party to the Committee on the Elimination of Discrimination against Women, or CEDAW. As a member of the Committee, the Royal Government has committed to ensuring strong standards on equality and non-discrimination for all women. It also provides critical normative standards that are intrinsically linked to the Agenda 2030 for Sustainable Development.
In Cambodia, women currently comprise 51% of the primary workforce in subsistence agriculture and 57% of the workforce in market-oriented agriculture, but they receive only 10% of agricultural extension services. Meaning, when a disaster impacts the agriculture industry, it is largely women missing from the social safety net. 
But there's a simple solution. Women must be included at the national and sub-national level when preparing and responding to disasters. 
The Royal Government of Cambodia has recognized the role women play and are making room for them at both the disaster planning and response.
Chan Kanha, the District Deputy Governor in Kampot Krong, is already working to get the voices of women into the DRR conversation.  
"It's extremely important to have the representation of women within disaster risk reduction," says Kanha.
Kanha strongly believes that increasing women's representation would enable other women to share their issues, priorities and identify solutions from their own perspective and experience. In her experience, the more that women are able to participate in DRR action, the more that the information and knowledge will be shared with other women across communities. 
"The more that women are aware of how to prepare, the better they will be capable of adapting during a disaster," explains Kanha. 
Women like Kanha have huge potential to make considerable contributions in disaster risk reduction. They are often first to respond when disaster strikes, tending to the needs of their families and communities and coping with the adverse impact on their livelihood.
"If you look at the structure for community DRR and response, there are more men than women in the actions. We're trying to change this," says Kanha.
"If women are left out of the DRR discussion, we're quite literally missing 50 percent of the skills and knowledge of the entire population. Women bring different, valuable perspectives that can help prepare a community and if needed, rebuild," explains Sophea.
It's true that women know the issues of women best. To advance women in the disaster management committees across Cambodia, especially at the sub-national level, we need more leaders like Kanha to be empowered and engaged in the disaster preparedness and response.
"Without Women's voices, women related issues would not be identified. Without women's participation, their priorities before, during and after a disaster will not be addressed," says Kanha.
About the project
UN Women-UN Environment EmPower, in partnership with the Royal Government of Cambodia, works to enable women's civil society organizations to understand, participate and influence climate change and DRR decision-making processes. UN Women works to promote women's leadership in government and civil society for climate action and DRR. 
UN entities involved in this initiative
UNEP
United Nations Environment Programme
UN Women
United Nations Entity for Gender Equality and the Empowerment of Women