Story
Media Advisory "High-level Symposium: The Future We Want"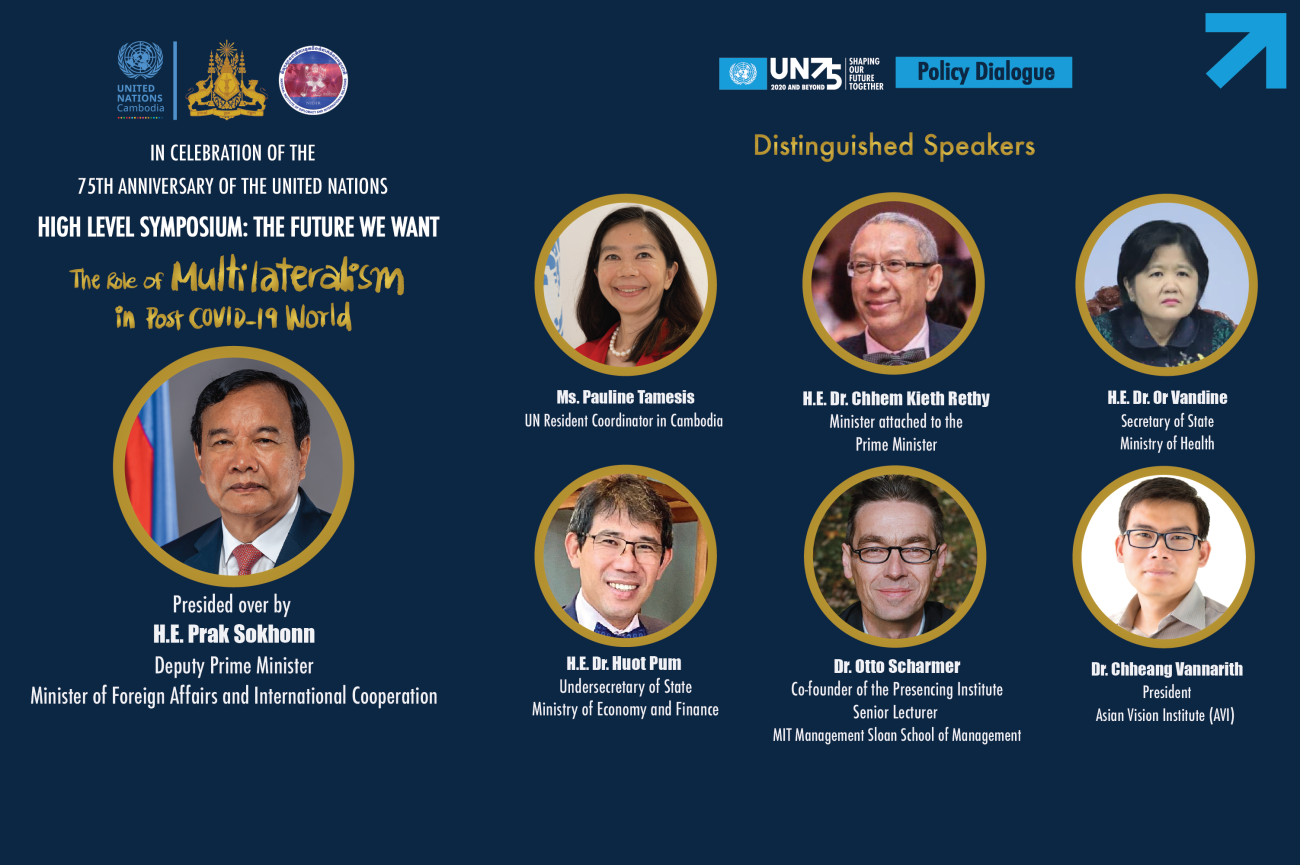 The Role of Multilateralism in Post-COVID-19 World
Media Advisory
The United Nations in Cambodia and the National Institute of Diplomacy and International Relations (NIDIR), Ministry of Foreign Affairs and International Cooperation jointly organize a high-level symposium on "The Future We Want, the Role of Multilateralism in a Post-COVID-19 World" to commemorate the 75th anniversary of the United Nations.
When:        Tuesday, 27 October 2020, 8:30 am – 11:45 am
Where:      National Institute of Diplomacy and International Relations (NIDIR)
                  No. 3, Samdech HUN Sen Street, Sangkat Tonle Bassac, Khan Chamkamon
The UN is marking its 75th anniversary at a time of great disruption for the world, compounded by an unprecedented global health crisis with severe economic and social impacts. The COVID-19 pandemic crisis risks halting and reversing progress on poverty eradication, food security, gender equality and other Sustainable Development Goals.
Cambodia's control over the spread of COVID-19 and prevention to-date of community transmission has been a remarkable success. Yet the social and economic fallout from the pandemic has been profound and particularly severe for vulnerable groups. While the country remains vigilant in containing the high risk of community transmission, social and economic consequences are a mounting concern.
The pandemic has underscored the need for a strengthened and renewed multilateralism.
The symposium will discuss the enduring importance and renewed role of multilateralism in building and shaping a better post-COVID-19 economy and society. The discussion will also reflect on how the pandemic crisis is an opportunity for transformation to achieve the 2030 Agenda for Sustainable Development. Three important questions to be covered are:
What kind of leadership is required to respond to a post-COVID-19 world that brings our collective voices together?
What opportunities can be leveraged so that we can build back better together?
What collective actions can the international community take to enhance global solidarity in mitigating and recovering from the COVID-19 pandemic?
The high-level symposium will be presided over by H.E. Prak Sokhonn, Deputy Prime Minister, Minister of Foreign Affairs and International Cooperation, with the participation of Ms. Pauline Tamesis, Resident Coordinator, United Nations in Cambodia.
The distinguished speakers are
H.E. Dr. Chhem Kieth Rethy         Minister attached to the Prime Minister
H.E. Dr. Or Vandine                       Secretary of State, Ministry of Health
H.E. Dr Huot Pum                          Undersecretary of State, Ministry of Economy and Finance, Deputy-Secretary General, General Secretariat of Committee on Economic and Financial Policy (CEFP)
H.E. Tean Samnang                      President of NIDIR
Dr. Otto Scharmer                         Co-founder of the Presencing Institute, Professor, MIT Management Sloan School
Dr. Chheang Vannarith                 President, Asian Vision Institute
For media registration or further information, please contact:
Mr. Chan Bunnarith, Director, Department of Public Relations, NIDIR, Tel: +855 23 214 441 Ext: 3081 E-mail: bunnarithch@gmail.com
Ms. Sreysros Keo, Communication Officer of the UN Resident Coordinator Office, Mobile: +855 11 88 57 66, E-mail: sreysros.keo@un.org
UN entities involved in this initiative
RCO
United Nations Resident Coordinator Office