Press Release
Information Note #16: Climate Change
13 December 2021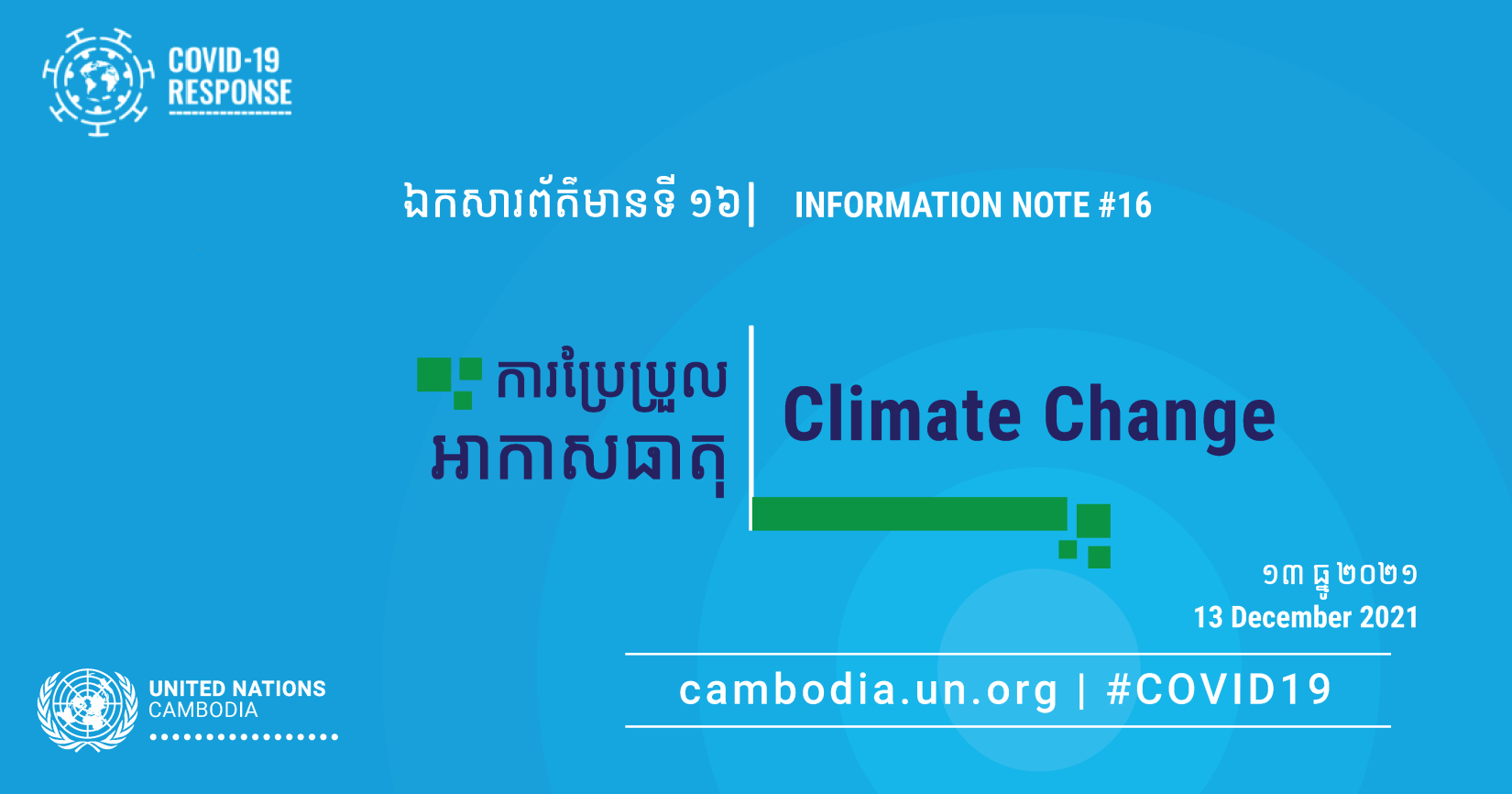 As the world gathered at the global climate conference COP26 seeking solutions to the climate crisis, we reflect on the need for action in Cambodia.
Over the last decades, Cambodia has had significant success in poverty alleviation and socio-economic development. However, increasing pressures on Cambodia's ecosystems linked to climate change and complex environmental challenge – including cross-border ones linked to the Mekong River – need to be considered in its development model if Cambodia is to achieve the Sustainable Development Goals (SDGs).
The Ministry of Economy and Finance and the National Council for Sustainable Development estimate that climate change impacts could reduce Cambodia's expected GDP by almost 10% by 2050, even if temperature increase is kept within the 2°C target. Cambodia ranks amongst the countries most vulnerable to climate change as a large proportion of its population depends on agriculture for livelihoods and lives in flood-prone areas[1]. Rainfall patterns are changing and are becoming less predictable, leading to more and more severe extreme weather events, such as tropical storms, floods and droughts.
This will significantly impact communities and may further result in economic losses, indebtedness, increased inequality, food insecurity and loss of life, with agriculture, infrastructure, forestry, and human health, the most affected sectors. The most vulnerable - children, women, people with disabilities, the elderly, and socially marginalized groups, such as migrant communities - will be the most affected.
Now is the time for a paradigm shift to support socio-economic growth that minimizes environmental and climate change impacts, with focus on the most vulnerable. The UN is encouraged by the growing interest in Cambodia and commitment across Government, civil society, private sector and young people, to place sustainable land and natural resource management and green growth at the heart of the country's socio-economic development.
The United Nations in Cambodia is supporting the Royal Government of Cambodia to achieve Sustainable Development Goal 13 'Climate Action' and take urgent action to combat climate change and its impacts. It is catalyzing its efforts around 4 broad areas:
The UN Human Rights Council recognised this October, for the first time, that having a clean, healthy and sustainable environment is a human right. This serves as a springboard to push for transformative economic, social and environmental policies that will protect people and nature. To achieve transformational efforts towards a more climate-smart, sustainable, economic development model, adaptation and mitigation strategies need to be interlinked and contextualized and target and engage the most vulnerable groups, including children.
The focus on a green economy at the global level, with climate neutrality commitments by countries and corporations, provides opportunities for Cambodia to attract investments in green technologies, with great potential to boost economic growth and create new jobs. Making Cambodia's economy and society more resilient to climate shocks is thus an urgent priority. This requires a mix of approaches including enabling regulatory measures, engineering and scientific solutions, innovative financing, risk management tools, social and business innovations, and youth engagement. The UN is equipped to support Cambodia in developing these integrated approaches to address climate impacts, particularly for the most vulnerable, and support all Cambodian's right to a healthy environment.
###
UN Cambodia's Response to COVID-19 Information Notes are official documents from the United Nations in Cambodia intended for the media and other partners. They are consolidated by the Office of the UN Resident Coordinator on behalf of the UN Country Team.
[1] UNICEF global report on children climate risk index ranking Cambodia as #46 globally
UN entities involved in this initiative
FAO
Food and Agriculture Organization of the United Nations
OHCHR
Office of the United Nations High Commissioner for Human Rights
UNCDF
United Nations Capital Development Fund
UNDP
United Nations Development Programme
UNEP
United Nations Environment Programme
UNESCO
United Nations Educational, Scientific and Cultural Organization
UNICEF
United Nations Children's Fund