Speech
Wreath -Laying Ceremony | Training School for Multinational Peacekeeping Forces (PKO), Kampong Speu Province
Remarks by Ms. Pauline Tamesis, UN Resident Coordinator, UN in Cambodia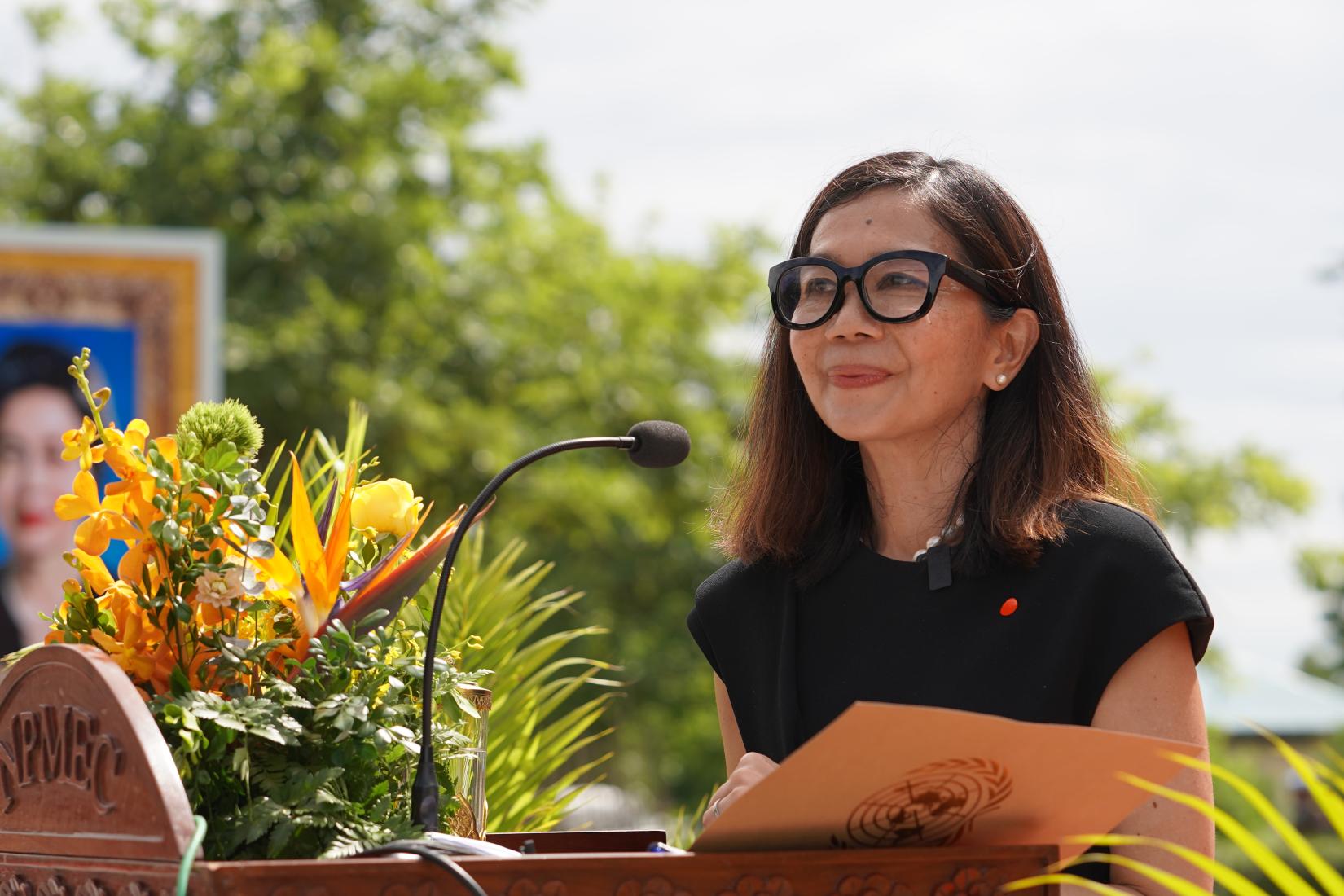 Excellency Prak Sokhonn, Deputy Prime Minister, Minister of Foreign Affairs and International Cooperation and Chairman of National Coordination Committee for UN Peacekeeping Mission
Excellency General Sem Sovanny, Director- General of the National Center for Peace Keeping Force, Mine and Explosive Remnants of War Clearance
Excellencies, Peacekeepers, Distinguished guests, Ladies and gentlemen,
On behalf of the United Nations system in Cambodia, it is an honour to be here with you today to pay tribute to our peacekeepers. The peacekeepers who lost their lives worked in difficult missions where progress in peace and reconciliation is fragile. But their heroic efforts made a difference. Today, we honour the more than one million women and men who have served as United Nations peacekeepers since 1948. They have saved countless lives, advanced peace and inspired hope.  In particular, we pay tribute to the nearly 4,200 heroes and heroines who sacrificed their lives in the cause of peace.
This year, on 29 May 2022, the United Nations will mark the occasion under the theme, "People Peace Progress: The Power of Partnerships."
Peacekeeping is just one of many tools used by the United Nations to help secure global peace and security. It is a collective enterprise. Standing alone, we can never succeed. But, together with partners, we are strong and changing lives for the better. 
Today, we thank all those who work with us in the pursuit of peace, including other UN entities, humanitarians, the communities we serve, women and youth, media, academia, traditional and faith-based leaders, host governments, Troop and Police Contributing Countries, Member States, and many others.
Excellencies, Distinguished guests, Ladies and gentlemen
Over the past 16 years, Cambodia has been an active member of the United Nations, and has sent a total of 8,302 troops, including 580 women, to 11 missions in nine countries, including Sudan, South Sudan, Chad, Lebanon, Syria, Cyprus, Mali, Central Africa and Yemen.
The UN commends the courageous and dedicated Cambodian men and women who have served and are continuing to serve in the UN peacekeeping operations for global peace and security. Their noble task is needed and greatly appreciated.
They manifest the best attributes of global solidarity, serving in dangerous environments to provide security to some of the world's most vulnerable. In many countries, UN mine-action personnel, including Cambodian deminers, have transformed danger zones littered with landmines and explosive remnants of war, such as cluster munitions, into areas that now can be used for schools, hospitals and farms. At great personal risk, the UN peacekeepers help stabilize communities, protect civilians, promote the rule of law and advance human rights.
Excellencies, Distinguished guests, Ladies and gentlemen
The vision for the 2030 Agenda for Sustainable Development adopted by all UN Member States, including Cambodia, states that "there can be no sustainable development without peace and no peace without sustainable development." Peace operations, sustainable development and human rights go hand in hand and are all important elements of making the world a better place every day.
Cambodia, once a beneficiary of the UN support and peacekeepers through UNTAC, has become one of the top ASEAN contributors of Blue Helmets. 
As Cambodia chairs the ASEAN this year, the UN encourages the Government to continuously promote "Women Peace and Security Agenda" as guided by the UN Security Council Resolution, and share Cambodia's best practices on women's roles in conflict prevention, and conflict resolution and peacebuilding with ASEAN member states. Women peacekeepers serve as role models, championing gender equality, and inspire girls around the world to engage in peacebuilding initiatives at home or abroad.
Excellencies, Distinguished guests, Ladies and gentlemen
The significant contribution of the Kingdom of Cambodia to the UN peacekeeping operation is very much appreciated.
Today, we pay our highest tribute to the peacekeepers who have lost their lives while in service – and we also pay tribute to the scores of others who were injured. We grieve with their families and friends that their contributions to the cause of peace will never be forgotten.
Echoing the UN Secretary-General: Peace can never be taken for granted. Peace is the prize. We are forever in their debt. It is our belief that the power of partnerships under the framework of peacekeeping operations will help us secure global peace, progress and sustainable development.
Thank you very much.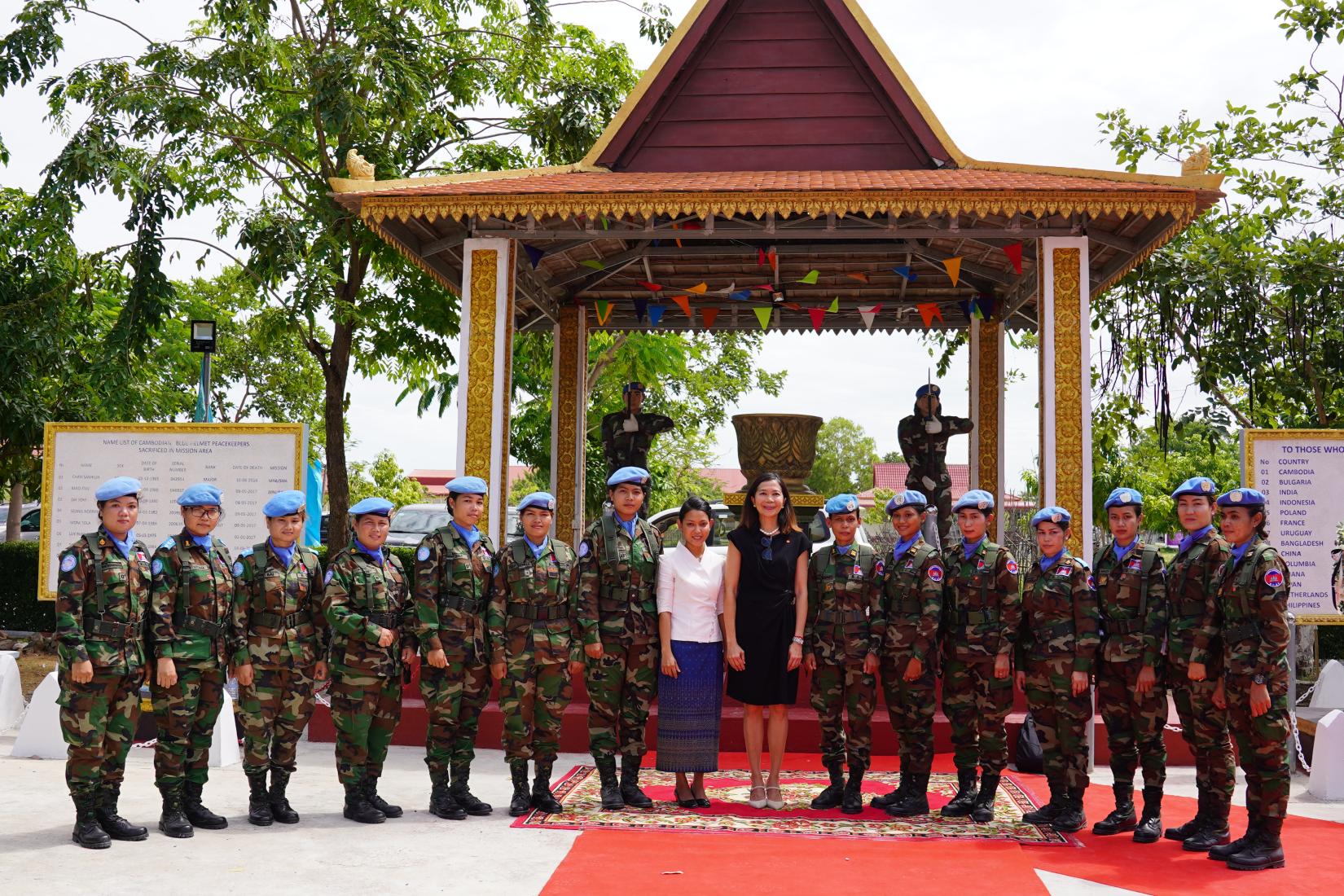 UN entities involved in this initiative
RCO
United Nations Resident Coordinator Office